If your life runs through a backdrop of unrequited ambition, or a pent-up dream which doesn't seem to want to abandon you, living in Bali can be the perfect way to finally point your attention toward it.
A tropical vacation is rejuvenating, but stay in a place like Bali long enough and it just might trigger a larger sense of perspective in you. Be warned: reducing the need for income and heavy clothing under which you might have been been straining for a lifetime can have ontological ramifications.
Who are you when you've thrown off the daily grind? Who might you be?

Glimpsing a less-constrained you in very different circumstances, even if only for a moment, hints at a larger, fuller life you might otherwise have lived.
It suggests a life you might–being still alive–still live.
For me years ago, the word 'expat' meant being Arthur C. Clarke in Sri Lanka, Graham Greene or Hemingway in Cuba, or even Bogart in a Casablanca nightclub. I have my moments but I never feel as distinguished or well-dressed as any of those guys.
But when an old friend came to visit us in Bali recently and mentioned with just a hint of fraternal sarcasm, "Hey you're an expat now", it got me thinking. I bought my little base here in 2005 and have been living in Bali nearly continuously since mid-2008. Had I passed some arbitrary time requirement? What does 'expat' mean in the 2020s?
A 21st century expat moving to Bali or elsewhere in Southeast Asia can enjoy the exoticism of his chosen location at a very low cost of living without many of the attendant inconveniences, deprivations or even dangers endured by those iconic figures from another time.
OK, I guess I'm soft.
Still, chatting with friends worldwide, cheap flights to Singapore for a visa run and authentic masala dosa, or taking time to work on an online business idea are all activities I wouldn't swap for doing it the way they did 50+ years ago.
Living in Bali as an expat is an exercise in having it both ways, sometimes almost embarrassingly so. Having said that, the frustrations and negative aspects built into expatriate life in Bali keep me from getting too smug. Today I'll just tell you about the good stuff, the 21 best things about living in Bali, according to me. In no particular order:
Living In Bali
1) Getting laundry done by a friendly Balinese family, three minutes' walk away. They charge 15 or 20 US cents per piece, folded and neatly bundled for next-day pickup.
2) Enjoying the melting pot that is Bali. Not only do people come from all over the world for everything from short visits to moving to Bali outright, people come from every corner of the Indonesian archipelago for the money-making opportunities in Bali, or simply to vacation. It's hard not to feel stimulated by the sheer variety of people here–everyone seems to show up eventually!–there's nowhere better to see it than on the beach at sunset time.
3) Bali mornings. What are things-to-do-in-Bali 'must-dos'? A few are Besakih Temple, Tanah Lot, and definitely Uluwatu at sunset, but I have one for you that isn't in any guidebook.
Get up around sunrise. Get to a natural setting, whether it's to the beach or to a path leading through rice paddies or jungle if you're inland in a place like Ubud. Before 9 AM or so you'll be rewarded with cooler temperatures and far less activity on the roads.
You'll pass people sweeping, the smell of incense wafting from small roadside temples, and hundreds of canang sari–small trays made of palm leaf and filled with offerings–put out by the Balinese as they perform their morning Sembahyang puja, the women wearing their vivid selendang sashes.
If you're in the rice paddies you'll see farmers starting their day or just sitting in a bale, a small raised platform with a roof and no walls. Birds as exotic splashes of color. Well, are they exotic if they're home? Maybe it's you who's exotic on this morning.
On the beach it's a quiet scene, a few joggers and dog-walkers if you're in Seminyak or Kuta. So peaceful compared to later in the day.
Treat yourself to a few early mornings, especially if you're in Bali for a short visit. (Pro tip: I always do this if I'm arriving jetlagged and awake early the first morning or two. No better cure for it…)
4) Balinese umbrellas and flags.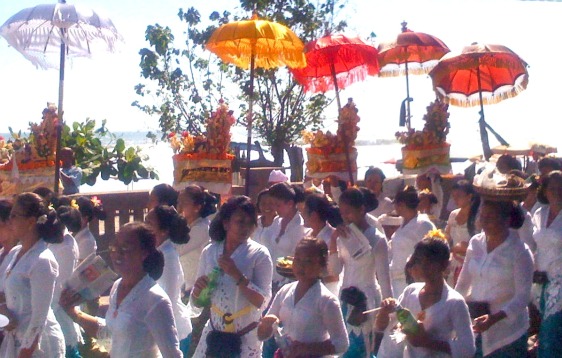 5) At night in the rainy season, sitting at the computer surfing the planet with my cat on my lap, or just sitting in warm humidity on the balcony, listening to the late-night torrents.
6) Having time to read every single book on the "must read" list.
7) Having time for my sunset walk on the beach every day. Funny how I never have to force myself to get a nice hour and a half worth of low-intensity exercise here. I know it's good for me but I do it because I love it.
8) Having time to reconnect with family and friends. It's ironic that being so far away from home without a work schedule means you have more time to spend with people than when you are geographically closer to them. And it goes without saying that you have the technology to do this living in Bali.
Specifically, you'll have a home connection, and there's free Wi-Fi in most of the restaurants. Bring an unlocked phone and you'll find 4G/LTE service in much of Seminyak and elsewhere too, via Telkomsel, XL and other carriers. About 180,000 rupiah gets you all set up with a local SIM card and a 1.5 GB data top-up every month is just 53,000 rupiah. It all means among other things that WhatsApp, Facebook Messenger, Viber, Skype, Facetime, WeChat, etc work as well as they do anywhere else in the world, of course. Why tell friends and family about your tropical breakfast when you can show it to them in real time?
And, when they come to Bali to visit–a surprising amount of friends and family do–we get to spend hours and hours talking as we rarely seemed to back in the realm of the busy. People are more interested and interesting without a schedule and so, most likely, are you.
By the way, in response to years of questions (since 2005) I wrote a book about how an ordinary person can live in Bali, detailing the cost of living in Bali and how to support yourself in Bali.
To purchase How To Live In Bali click here now to go to the fast, secure checkout.
Or, if you'd like a sample of How To Live In Bali (2017 edition), just tell me where to send your two free chapters, below:

The link to purchase the book is at the bottom of every page of your sample chapters. Sign up and you'll also get my private Wage Freedom newsletter every once in a while, when I have something good to share. Unsubscribe any time.
9) Magnificent luscious fruit. I wouldn't want the stellar vegetables to feel left out either, and one certainly will find both elsewhere in Southeast Asia, but I'm amazed still at the variety and freshness of mangosteen, papaya, pineapple, honeydew and watermelon, several varieties of bananas and mangoes, rambutan, snake fruit, dragon fruit, durian, etc. I always have fruit at home and indulge in a half-papaya every day.
10)Taking spur-of-the-moment flights to interesting places. I start every day in Bali knowing that if I got the urge I could wake up the following morning in any one of a hundred interesting cities, watching the world come alive in Chiang Mai, Kovalam Beach in Kerala, Ho Chi Minh City, Penang, etc. etc.
If you're coming to Asia from Europe or the United States it would be difficult to see too many of the places you've "always wanted to visit" without taking a six-month sabbatical and aggressively connecting all the dots. Lots of people buy a backpack and do this at some point, but moving to Bali (or having a base anywhere in this region really) means spontaneous explorations won't break the bank, nor even require much planning. Led by Air Asia, the availability of cheap flights has increased dramatically over the past 10 years; more competition has meant you're no more than US $100 or $200 from destinations worthy of checking out. Most days, I do not jump on that airplane. But I can, and that has made all the difference.
11) "Mau ke mana?" In the tourist areas you'll get the English version: "Where are you going? It's the common greeting between Indonesians so naturally they'll ask you too, as you walk by.
With a little shame now, I remember feeling the question to be a minor intrusion when I first came to Indonesia. Maybe it was a typical reaction for a westerner being asked their intentions by a stranger. I soon relaxed.
I think the greeting reflects a culture with a refreshing (to me) lack of concern over maintaining the anonymity and privacy on which we often fixate in the West. I like it because it underscores a mutual familiarity with my neighbors. I ask them myself now.
12) One-hour massages priced from US$5.
13) Seeing at every turn the amazing, usually functioning blend of Balinese tradition combined with all the modern world has to offer.
14) Good quality DVDs and CDs of recent film/music releases on every corner for US$1. Yes, I know that no one is getting paid but the people from whom I buy them, most of whom make less in a month than Johnny Depp slips the valet. If streaming is more your thing, Netflix and 100 other options are available.
15) Having time for leisurely two- or three-hour meals in restaurants, depending on the conversation and who might show up. Never will there be an insinuation that you should order more or perhaps free up the table. This is not unique to Bali of course; budget travelers in the region know the Asian informality which blurs the line between eating and socializing. I'll admit I've sat for so long after a meal that I get hungry again and order another meal.
Well, I'm not the only one.
Since Internet access is a given at Bali restaurants, it's easy to combine the additional dimension of working, alone or together with friends on the Project. Or not.
16) Not spending time trying to convince myself that to defer life is to live.
Get ready, here's a heavy idea I didn't invent: in dreams begin responsibilities.
Execute and come to a place where you are (finally) without reasons why you can't act, today, and you will find if you are worthy of this dream of yours, and all the effort it took to get you here in the first place.
You can fall into a deserved retirement when some arbitrary timetable finally says it's OK, a schedule invented by people who never considered any other way.
But there are other ways.
And if you're brave enough to decide not to defer living but to live sooner, to live today, you make an (equally) arbitrary decision which is fundamentally different because it is of you.
And if you're brave enough to decide you deserve to pursue living as you define it, the onus will be on you to act.
I think of it as having time to pursue my projects, explore possibilities for making money online, and simply to breathe. Of course you can do these things anywhere–you can take action anywhere.
Living in Bali was a catalyst for me, a freedom metaphor. It was also a much cheaper place to test ideas than California.


18) Bluebird brand taxis cost no more than $1-$2 for just about everywhere I want to go. Air-conditioned, pleasant drivers who turn the meter on every single time without having to be asked. And, ridesharing has come to Bali. Grab and Gojek offer car and motorcycle taxi rides for as little as 4,000 rupiah (about US 29 cents), plus a clean helmet and a rain poncho in the rainy season.
19) No problem getting around with English, though if you're a Bali expat you'll learn at least basic Bahasa Indonesia, as it's one of the easiest languages to learn: no verb tenses, a Roman alphabet with no difficult tonal pronunciations, etc.
20) Arriving back at my condo in the afternoon hours on a steaming hot sunny day to the pleasure of the cool air in our little place. Add the right beverage and you can go from wilted to refreshed in about 10 seconds. We tend to avoid the heat here in the midday, until 5 PM or so when it becomes cooler and it's time to hit the beach for sunset.
21) Meeting interesting long-term expats, most of whom seem to have biographies worthy of a movie.
Think you've been around? In the market last night I run across an acquaintance in the produce section. He's a charming fellow with a US accent in his early 60s (I guess) who has been living in Bali and elsewhere in Asia for most of the last 40 years, and always looks as though he's heading to an after party in the Hollywood hills. My understanding is that he has been a collector of Dayak art since he was a hippy, and that he's made countless trips up rivers in Borneo in his day.
He tells me he has nearly 5,000 Facebook friends now, and very little time for anything other than keeping his active online and off-line social life organized. He allowed someone to place an ad to sell a house on his Facebook and to his surprise it sold very quickly; he sees this as an enormous online business opportunity–not that he particularly needs the money-and feels like the future is wide open, full of possibilities.
I'm not sure if he has ever had a "real job" back in the United States, but no mention is made of impending retirement and Social Security compensation. He is clearly not waiting for anything. I imagine he never has.
---
Moving to Bali
Being a Bali expat–for me–turned out to be an adventure in something more than living on the beach in Indonesia.
It's shown me the experience of living for today without sabotaging tomorrow.
We are taught that there's a natural dichotomy between enjoying oneself and doing what it takes to pay for that enjoyment. You have to 'pay to play'.
At the risk of sounding like a simpleton or making anyone uncomfortable who spends time employed in a job he or she doesn't like, let me speak plainly. This distinction is a delusion, played out on a mass scale by good people who too often don't even question their participation in it.
Life doesn't have to be win lotto/nose to grindstone, holiday/work, or retired/not yet retired.
You can make use of interests and abilities you have to bring you a solid cash flow, if not a full time income, and maybe even multiples of your current salary eventually. Choose yourself and you don't have to wait for someone to give you a great job. What dormant, half-forgotten abilities or ambitions still exist in you, waiting to be unleashed?
And what does all this have to do with living in Bali? Well, for one thing living in a warm, friendly place for a fraction of the cost of the 'developed' world totally skews the math in your favor.
That gives you breathing room to work on (or even discover) the means to support yourself in a way which is more integrated with who you are.
You will have to do the work of matching your skills to markets or needs you can satisfy, maybe after some self-directed training in a new vocation. But you can find these needs, and you can learn enough to get started, and network as a way to accelerate the whole process.
And yes, the Internet ties it all together–at least the way I and most of my friends do it. Maybe you find the thought of getting better at learning, earning, and reaching people online to be overwhelming or intimidating. Please remember: the same Internet also connects you to mentors and coaches (formal or otherwise) and provides every answer you'll ever need to change your life for the better and wage your own style of freedom.
I know too many people whose lives are evidence of this not to believe it.
So what about you?
Have you always wanted to be a person who writes, paints, sculpts, makes furniture, designs clothes or leather goods, designs shoes, jewelry, or toys? Are you interested in being an Internet entrepreneur, making a real difference at an orphanage, being a freelance travel consultant, a wedding planner, a documentary filmmaker, or building your own home? Do you just want some time to study something new, for all the right reasons?
Major life redirection may be too expensive for you to consider 'back home', but it's cheap enough living in Bali to pursue even a vague interest, and if you work for it, it can sooner or later, directly or indirectly, become a means of paying the bills. It won't take much.
If you have an idea for a better purpose that won't let you go, living in Bali (or many other places in Asia) will give you time to work on your project. This means you'll have time to step back from your life and a work schedule which might have turned somehow from being comfortable and an acceptable price to be paid, to being a soul-killing drag, short and simple.
My two cents: Ask yourself what you'd really like to spend your time doing and look online for ways to create an income around it, rather than than just 'how to make money in Bali'. There are endless ways to earn money using internet marketing strategies.
A job is usually not the way to go for most foreigners living in Bali, and SE Asia, for various reasons. It might have been a problem 20 years ago. No longer.
Flex your entrepreneurial muscles and step toward a better plan of your own devising.
If you look your dream in the face, even if it's just a vague desire for more, and tell yourself that only people with trust funds, or those somehow 'chosen' can escape, you're half right. None of my friends living in Bali have trust funds as far as I know, but we were in fact all chosen for something different.
But here's the secret: it was we ourselves who did the choosing.
Hey, remember the quote about the devil finding work for idle hands to do? It was handy for people who wanted you to keep your nose to the grindstone, toward an end they'd supply, which would in turn profit them. Those devils found work for you to do in return for concepts like security, and the satisfaction of small desires. Shed this ah…arrangement.
Having time to be self-directed, possibly for the first time in one's life, is the basis for a profound transformation for many people.
Not everyone has a hole in their life which can be filled only by taking action which might seem imprudent to others. But if you do, don't kid yourself in an effort to placate 'others'.
Your friends will cheer you on, and the other folks don't really care that much anyway.
By the way, you don't become a Bali expat and 'never go back', unless you really don't want to. Chances are the same flexibility that made it possible for you to live or retire in Bali in the first place will take you back to where you're 'from', though you'll probably return without the person you are now.
So wage freedom. Because life is good, and time is running out.
---
WageFreedom.com is re-launching. After years of answering readers' questions as to how to make an income as an expat, I am expanding the scope of this site.
Get the full story by clicking here.
What is the one question I can answer for you regarding being an expat in Bali or Southeast Asia? What do people do all day? How to start a blog or website to pay for life in Bali? Just leave it in the comments and I'll give you the best answer I can.
And, would you like two free chapters of my new book "How To Live In Bali" (2017 edition)? It's almost 30,000 words of detail aimed at helping you stay longer in Bali than tourists do. Sign up to my newsletter below and you'll receive your free chapters immediately.